All picked by local South Asian restaurateurs.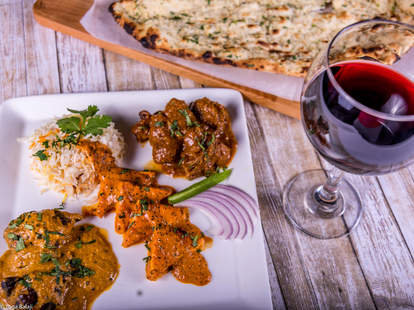 Indian Garden
Diwali, India's annual festival of lights, kicks off on Saturday, November 14, and while celebrations might be a bit limited this year, rest assured you can still gorge yourself on all the piping hot samosas, silky paneer, pillowy naan, and soul-warming biryani our fair city has to offer. We hit up three esteemed Chicago-based tastemakers—Zeeshan Shah of Superkhana International, ROOH Chicago's Manish Mallick, and Ali Dewjee of Bombay Wraps' growing empire—to get their take on the best of the best from Little India's famed Devon Ave and beyond.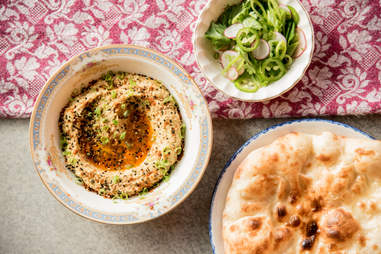 Kaju Hummus from Superkhana International


| Belen Aquino
Logan Square
From hand-rolled bagels slathered with chili crisp cream cheese and plump roasted butternut squash dusted with toasted pepitas and garam masala to a ghee-washed bourbon Old Fashioned and original fruit-forward syrups like the Thomcord Grape Cardamom Cordial from local bar wiz Colleen Malone's Be Cordial line, these Logan Square boundary-pushers menu defies expectations in the most delicious way.
"Our butter chicken calzone is one example of how we're different," says Shah, its executive chef and co-owner. "A typical Indian spot may serve classic butter chicken with either naan or rice or both, but we wanted to present a unique experience here. It was kind of Jason's joke during one of our early meetings. We all laughed at first, then Yoshi and I went to work on R and D. The result is something super fun while honoring the traditional flavors."
How to order : Order pick-up ahead of time via Toast or amble up to the spot's newly unveiled take-out window on Diversey Avenue to see (and, more importantly, taste) the magic in action.
Little India
When Shah feels the need to satisfy his sweet tooth, the Superkhana executive chef and co-owner makes a beeline for this Little India mainstay. "The sweets are out of this world," he raves. "I particularly love the halwa—they make a few kinds, but I really like the sooji halwa. It's like the best version of cream of wheat if you left out half the water and added all the best sugar. It's like nothing else." But it's not all lollipops and gumdrops here. "Their focus is on intensely sweet Indian desserts, but they also have very good samosas and chai," adds Shah. "It's the only place on Devon I actually buy chai.".
How to order : Peruse the wares and stock up in-person at the Devon Ave cafe or get the party delivered via GrubHub , DoorDash , and Uber Eats.
ROOH
West Loop
This lauded West Loop staple fits right in on restaurant row thanks to an upmarket and progressive approach to South Asian standards. "All food at ROOH Chicago is made fresh daily in the kitchen by our professionally trained team, some of whom have worked in Michelin Star restaurants in Europe," notes owner Manish Mallick. "They work hard on making sure we serve the highest quality produce cooked with a balance of traditional Indian spices that invigorate the taste buds."
Tasting menus ranging from inventive brunch and dinner fare to themed lineups for holidays like Dawali and Thanksgiving lead the way, each a guided exploration of the country's diverse culinary landscape. "My favorite is the Culinary Journey, encompassing four courses of artistically plated, delicious meals," Mallick says, describing one of his restaurant's signature prix-fixes. "It's an experience to remember and salivate days after. The dishes bring flavors from all regions of India: North, South, East, West and the coastal areas. On the menu, each dish is marked with the city that inspired it so guests can take a true journey. Add the wine pairing or cocktails—Hyderabad Tonic and the Old Fashioned are my favorites—to enhance the experience."
How to order : Reserve a seat on the heated patio for in-person dining, nab some take-out from Toast and Tock , or have the goods delivered to your door via GrubHub , DoorDash , and Caviar .
Little India
According to Shah, this is Devon Avenue's number one supplier of both standard and harder-to-find vegan and vegetarian eats. "There's no meat in sight, and that's great," he says. "They do some things not everyone does, like khaman dhokla and fafda. These are so good and also so underrated in terms of what someone might expect at an 'Indian place.'"
How to order : Drop by the sundrenched corner outpost for take-out and onsite dining options, order ahead with Toast , or have it delivered via GrubHub , DoorDash , and Uber Eats .
River North
When it comes to this laid-back River North counter-serve, Shah goes straight for the samosas. Fellow street food standouts like crispy baked fries drizzled with zippy house Moti sauce and spicy, garlic-laden vada pav share a bill with more substantial options like chicken biryani and tikka masala. Fusion-fueled spins like naan paneer pizza, curry ramen, fiery chicken vindaloo tacos, and Nepalese momos tossed in sweet chili sauce are on-hand to Keto Meal Delivery keep diners on their toes.
How to order : Pop into the Huron Street storefront for take-out or ride the digital wave and score pick-up and delivery from Toast , GrubHub , DoorDash , Postmates , and Uber Eats .
Logan Square
This vibrant and beloved Logan Square joint is one of Shah's local no-brainers. "I love Spice Room," he declares. "I haven't made a bad decision ordering from them, and I've ordered nearly their whole menu by now." Highlights include a surprisingly complex and ultra-velvety lamb vindaloo, dreamy malai kofta in rich cashew sauce, and a particularly crave-worthy version of pav bhaji that consistently packs a fiery punch.
How to order : Call 773-360-8689 or check out the Armitage Ave storefront for take-out and onsite dining options or cruise over to GrubHub , Postmates , Caviar , and BeyondMenu for delivery.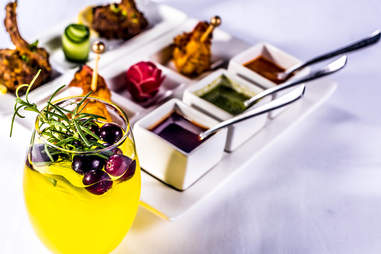 Indian garden
Streeterville
ROOH's Mallick recommends this festive Streeterville addition, known for its Keto Meal Delivered extensive portfolio of familiar dishes and more obscure hyper-regional specialties prepared using age-old cooking methods and intoxicating spice blends. "Chicken biryani and Baingan Bharta are some of my favorite take-outs from Indian Garden," Mallick says, praising the eatery's off-site dining program. "The food always arrives fresh, warm, and ready to eat."
How to order : Call 312-280-4910 or head to GrubHub , DoorDash , Postmates , and Uber Eats for take-out and delivery.
Bombay Wraps
The Loop, Streeterville, Lakeview
Indian street food classics get the modern fast-casual treatment inside this decade-old crowd-pleaser's three brick and mortar outposts. Dishes are straightforward, delicious, and always at the ready. "Chicken tikka is definitely a Bombay Wraps favorite," says managing partner Ali Dewjee. "You can enjoy it in a wrap with a side of samosas and dipping chutney or mix up your regular lunch routine with a sandwich roll and a side of spiced potato chips. And if you're looking for a satiating meal, chicken tikka over basmati rice with condiments and sauces are a sure hit."
How to order : Stop into any location to check out take-away and outdoor dining options or request your pick-up and delivery online via Toast (The Loop , Streeterville , Lakeview ).
Gold Coast
This Gold Coast fine dining destination ranks high on Dewjee's list for South Asian comforts prepared with upscale cheffy flare, even after the pandemic sidelined their legendary buffet. "When you crave the rich, warm taste and aromas of Indian food, Gaylord delivers," she says. "Earlier in the year they had a buffet spread fit for a Maharaja and Maharani, however they continue to serve pick-up and delivery via an abbreviated—albeit tasty—menu. The chicken reshmi kebabs and the pepper fish are my favorites."
How to order : Call 312-664-1700 or come by the E Walton Street flagship for pick-up and onsite dining info, click on MenuPages to snag take-out, or look to GrubHub and DoorDash for delivery in a flash.
Meredith Heil is a Thrillist contributor.