Children in France aged six and over will have to wear face masks in the classroom to keep schools open, the prime minister said on the eve of a second national lockdown.
Speaking before the national assembly backed the new restrictions by 399 votes to 27, Jean Castex said the mandatory use of masks was being extended to primary school pupils on the advice of public health officials. Only children over 11 have had to wear masks in school until now.
France entered a new month-long national lockdown from midnight on Thursday in attempt to shield the health service, where 60% of intensive care beds are occupied by Covid patients, double the proportion of 15 days ago.
"There is no other solution," the prime minister said of the measures announced by the president, Emmanuel Macron, on Wednesday evening. "We will have to manage a higher peak of hospitalisation in November than in April. The virus is accelerating, we must also accelerate."
France's move is expected to be followed on Friday in Belgium, where the rate of infection is the worst in Europe, but across the continent cases of coronavirus are soaring.
In Sweden, which has shunned lockdowns, the health agency moved on Thursday to tighten pandemic advice for three regions, including Stockholm and Gothenburg, saying infection rates were rising sharply. It advised residents to avoid indoor environments such as shops and gyms. The agency said there were 2,820 new coronavirus cases in Sweden on Thursday, the highest since the start of the pandemic and the third record number in a matter of days.
On Thursday evening, the EU's 27 heads of state and government during a videoconference summit discussed the coordination of the rollout of rapid tests as part of an attempt to take back control of the virus.
The European commission president, Ursula von der Leyen, said it was also vital for member states to share data on intensive care unit capacity to facilitate cross-border care.
Charles Michel, the European council president, who chaired the discussion, said: "We call on all Europeans to take care of themselves and one another … The numbers are increasing everywhere in Europe. Our hospitals and health workers are again under pressure and that is why many leaders have announced lockdowns and restrictions."
France's lockdown will mean residents will again have to swear a declaration in order to leave their homes, and all non-essential businesses, including bars and restaurants, will be closed. Private gatherings will be banned, though people will be given time to return home from the All Sai
nts' Day holiday this weekend. Universities will give courses online.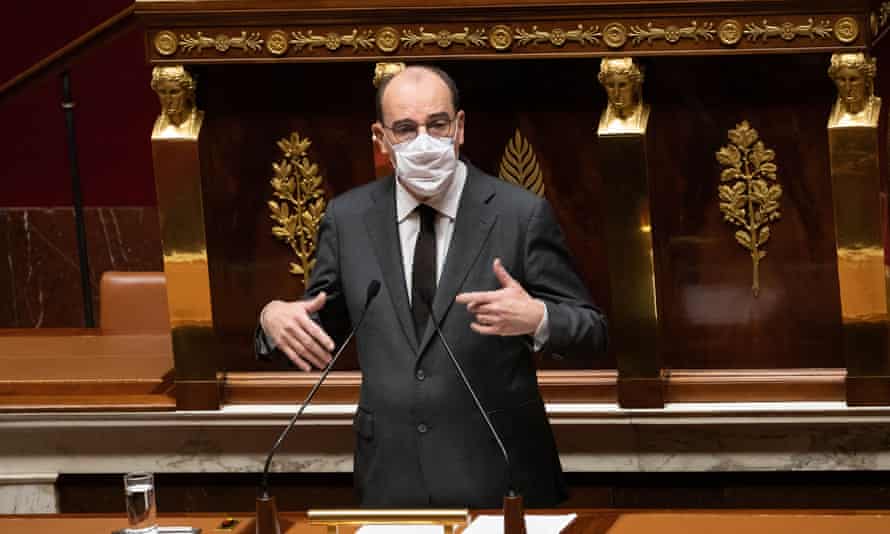 Unlike during the spring lockdown, public services and schools will stay open. Castex said people driving their children to school would need a certificate and "in accordance with the opinion sent to us yesterday by the high council of public health, the wearing of masks will be extended to primary schoolchildren from the age of six.
"Like all our large public services, national education must continue to function," he said. "The nurseries, the schools, the colleges, high schools will remain open. The same goes for the extracurricular sector. I know that the teaching staff and all the educational staff will be there … [From Monday] the health protocol will be adapted and reinforced to ensure protection of all: children, teachers, parents of pupils."
The list of essential shops allowed to open will include those selling food, newspapers and stationery. Garages, computer repair shops, opticians and funeral parlours will also be exempt from the shutdown.
In a televised statement later on Thursday, Castex said those taking exercise would only be allowed to travel within 1km of their homes and could be outside of their houses for no longer than an hour.
"You will only be able to leave your home for certain reasons and provided with a certificate," Castex said, adding that a fixed fine of €135 (£122) would be applied in the event of non-compliance with the lockdown rules.
France's borders will also be generally shut to those coming from outside the EU and those coming from outside the passport-free Schengen area must have a negative test or be tested.
The German chancellor, Angela Merkel, also defended her government's new tough shutdown measures, announced on Wednesday in the Bundestag, saying propaganda and conspiracy theories were undermining the fight against the pandemic. As she was jeered by members of the far-right Alternative für Deutschland party, Merkel said: "Let me be clear. Lies and disinformation, conspiracy and hate damage not only democratic debate but also the fight against the coronavirus."
Merkel agreed with Germany's 16 state leaders in a video conference on Wednesday to shut restaurants, bars, cinemas, theatres, gyms and public pools among other leisure facilities for the month of November to try to contain a surge in infections. Schools, nurseries, shops and other essential businesses will stay open and there will be no restrictions on people leaving their homes.
Merkel said new cases had doubled over the past week and intensive care units were quickly nearing capacity. "The measures we are adopting are appropriate, necessary and proportional," she said. "At the beginning of the cold time of the year, we find ourselves in a dramatic situation … The winter will be hard, four long difficult months, but it will come to an end."