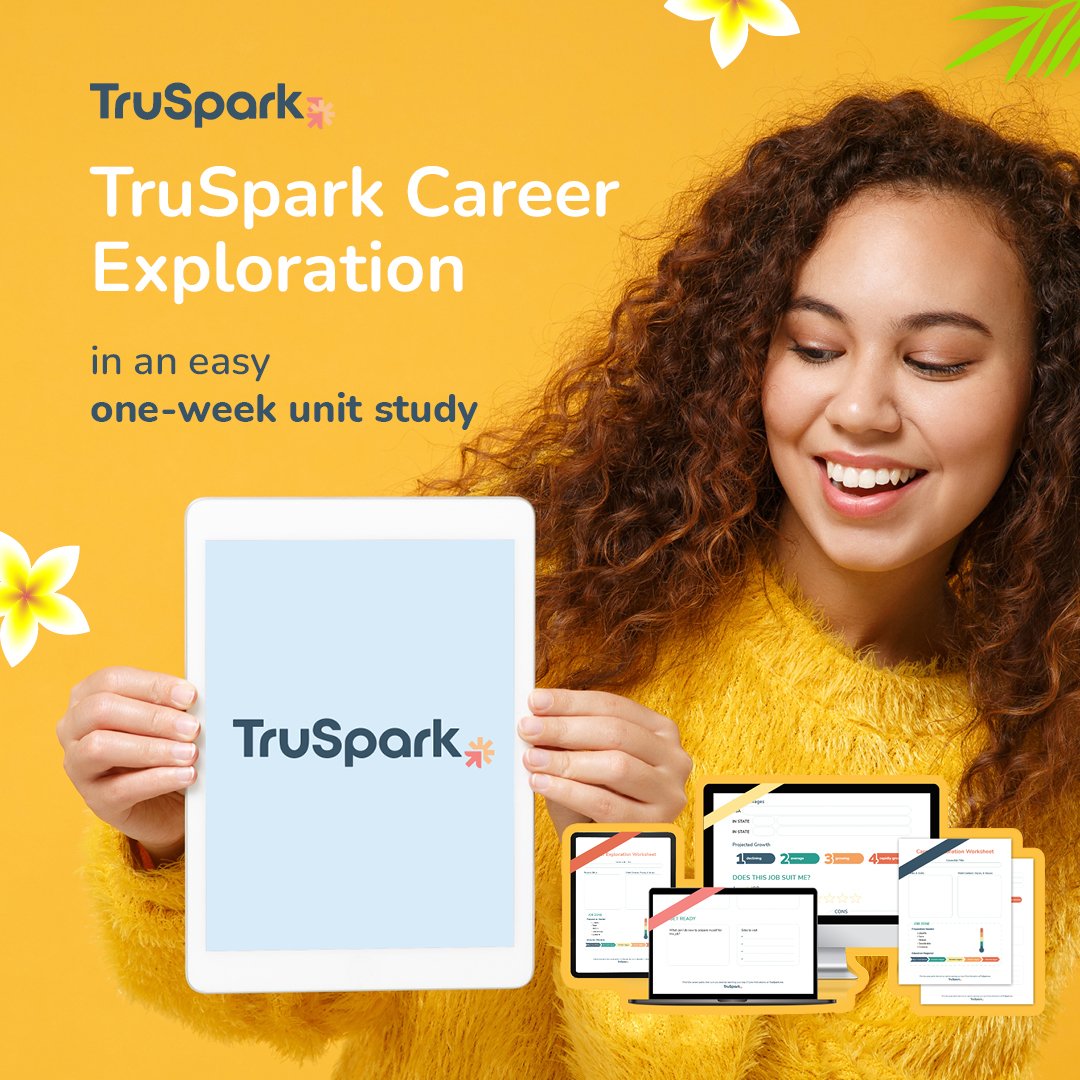 All of my children found the assessment to be quick and easy and were surprised with how well the results described who they are today and what they may be interested in pursuing in the future. They especially loved the long list of job suggestions because it helps them begin to imagine what would be a good fit for them.
I find it interesting that they were able to take the assessment and obtain such seemingly accurate results with the variety of their ages. I think overall, TruSpark was so helpful for them to see the areas that they lean towards when it comes to their future.
So, while you're taking a break from your normal math, language arts, and science, spend a week on a journey of self-discovery with the TruSpark assessment + curriculum. 
It's EASY for you—fully-planned and clear enough that most teens can do it independently.

It's EYE-OPENING for your teen, revealing what truly motivates them to act in their zone of excellence.

It's PRACTICAL, taking teens through the most up-to-date data about the American job market and helping them zero in on possible career paths.
As TruSpark writes, "Career exploration can open new possibilities of job paths teens don't necessarily experience in their day-to-day lives. It's hard to imagine being a petroleum engineer when you've never met one or even heard of this role. Kids who come from a family of teachers tend to lean towards the education field even if it's not best suited for them. Part of career exploration is understanding the wide scope of career paths open to them and ruling out those that aren't a good fit due to temperament, interests, motivations, or educational requirements."
 Make this year meaningful for your teen by doing a unit study on core motivations and career exploration. There is even a faith-informed version available at no additional cost at checkout! You can read all about the faith-based background of TruSpark HERE.
Click here to learn all about TruSpark, and click here for your FREE downloadable Career Exploration Worksheet for Teens!
Also, TruSpark is offering $5 off of any purchase when you use coupon code ruth. Valid through 12/31/2022. 
Blessings,
Ruth
Disclosure: This post is in partnership with TruSpark. All opinions are 100% my own.