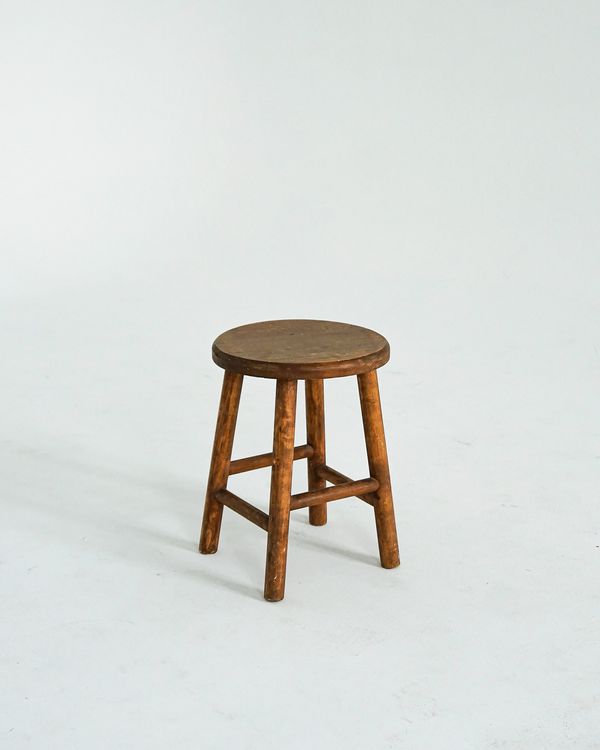 Photo: Maksim Semencov/EyeEm/Getty Images
Last Monday, SSENSE — the Canadian luxury e-commerce site that over the last few years has become a hub for both Margiela boots and interviews with Hilton Als — published a story about stools by the writer Max Lakin. More specifically: It critiqued wealthy people for buying and displaying handmade, antique, or "found" objects (like small wooden stools) without understanding their cultural context. He had plenty to say about the shops and dealers that sell said objects as well: "There's something sinister," he writes, "latently colonial even, in mashing distinct folk art divorced from their cultural context into Instagram-calibrated vignettes."
It took a few days for the design community to notice the article. But once it did, it really did. "A good chunk of my feed 2day was dedicated to some DRAMA in the design community re: an article with a lot to say about wooden stools," the comedian Julio Torres posted to his Instagram Stories Thursday evening. "I am dizzy from this debate."
The furor was twofold: those who felt it was misguided that SSENSE and Lakin would publish a "hit piece" about small businesses during a global pandemic that has closed hundreds of thousands of small businesses, and those who felt that his main point — that the people buying and selling handmade objects don't understand those objects' cultural context — was untrue and under-researched.
The meltdown started in earnest on November 11, three days after the piece was actually published, when Alex Tieghi-Walker, the founder of online design gallery Tiwa Select, who was name-checked in the piece, first caught wind of its existence. "I'm a small business trying to do well for myself and the artists I work with," he wrote in the comments section of SSENSE's Instagram post on the article. "A larger brand complicit in critique of small-business owners feels all too.. raw.. during a time when so many small businesses have closed their shutters permanently." Other dealers of vintage goods quickly chimed in, too, commenting on SSENSE's Instagram in a similar vein.
Then came the rest of the design community on Twitter and Instagram. The filmmaker Amit Khanna responded to a line in the piece about the artist Jim McDowell's face jugs, his interpretations of traditional African spiritual and funerary vessels, some of which are currently on view at the Noyes House, alongside work from Chinatown furniture-makers Green River Project and the sculptor Lynda Benglis. "There's something jarring about seeing McDowell's face jugs in the Noyes House," Lakin writes. "Placed on a handsome, low-slung Brazilian modern coffee table, [they] look shocked." "Ah," tweeted Khanna. "The hit piece no one asked for. Jim McDowell — a close friend — is fully aware of the significance re: his work in the Noyes House." Interior designer Rafael de Cárdenas was more blunt: "You sound like a real dick," he tweeted.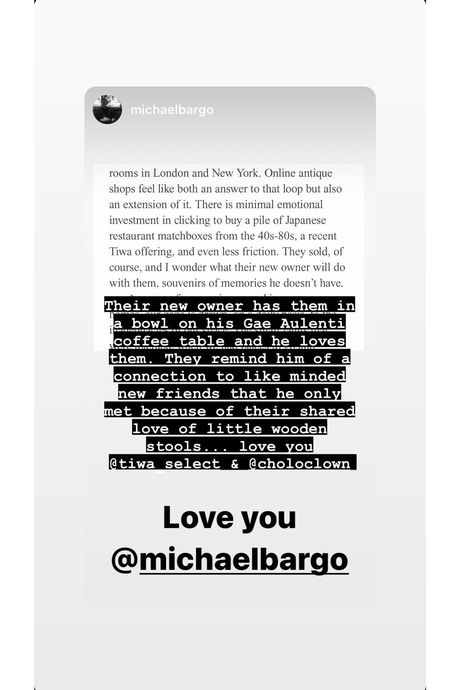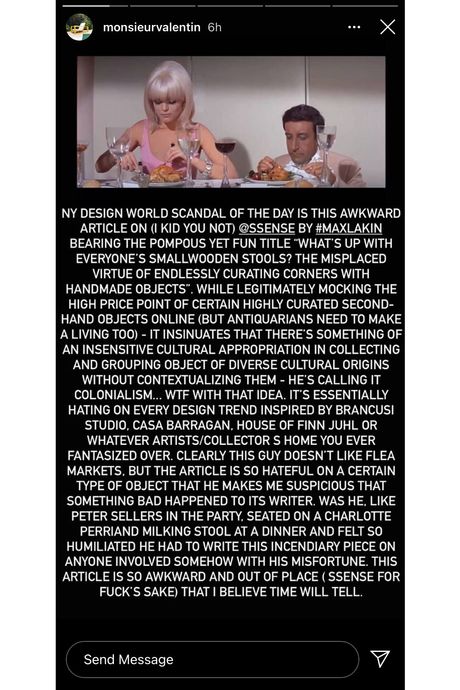 The next day, Lakin weighed in on Twitter. "I'm being online bullied by wealthy aesthetes for declining to flatter their taste," he wrote. "I saw all the hate," responded GQ writer Max Berlinger. "And to be frank, I'm jealous." Writer Fanny Singer responded, too. "Sorry," she wrote, "and who exactly do you think is the customer for your boss/publisher @ssense??? Penniless rubes?"
Over the weekend, things died down. We reached out to McDowell to see what he thought of the exchange. "I'm not sure why a writer feels the need to criticize anyone who enjoys collecting or who curates their corners and the people who make that possible," he told Curbed.
Meanwhile, a source says SSENSE is planning to launch its own home-goods section in the near future.